Bearing solutions for construction and heavy machinery
In heavy and construction machinery, bearings are sometimes exposed to extreme operating conditions – excessive loads, contaminated environments, rough weather, etc. EASIER has extensive experience in this area. EASIER Can manufacturer the complete series bearing for Construction Machinery, for example Wheel loaders, Crawler excavators, Dozers, Backhoe loaders, Road rolling machines, concrete mixer machinery, Earth moving machinery, Construction hoisting machinery, Rock drilling machinery, Piling machinery, Compaction machinery, Roadheader, breaking hammer machinery, Drilling machine, Elevator and escalator.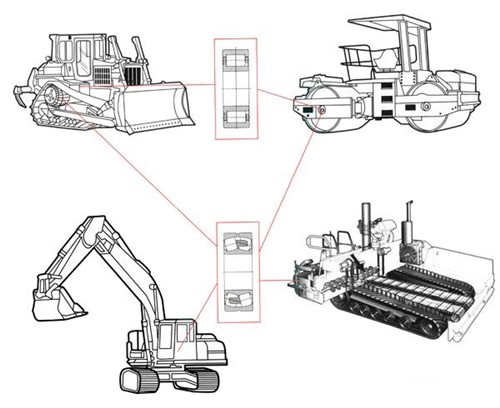 Special bearing used in Construction Machinery as follows:
-- Special Needle Roller Bearing for Hydraulic Pump
-- Full Complement Cylindrical Roller Bearing without Outer Ring
-- Concrete Mixer Truck Bearing for Cement Industry
-- Eccentric bearings
-- Cable sheave bearings
-- Cradle bearing
-- Piling machine bearing
-- Shearer machinery bearing

Standard bearings
commonly used bearing types in construction and heavy machinery:
- Needle Roller Bearing
- Slewing bearings
Construction machinery is the important part of assembly industry. Generally speaking, construction engineering, road construction and maintenance, flow type lifting handling operation and various construction projects need necessary for comprehensive mechanized construction engineering machinery and equipment, known as engineering machinery. It is mainly used in construction, transportation, national defense construction, energy industry, mine construction and production raw materials, such as construction and industrial production, agriculture, forestry and water conservancy construction, industrial and civil construction, urban construction, environmental protection and other fields.